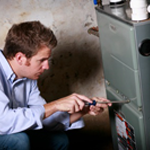 Emergency Repair Service Hotline: 317-422-4663
How do you know if you need a repair or when it's time for a replacement?
What are some common air conditioning and heating problems and can you diagnosis a repair problem yourself? At DuganAir, we believe the more you know about air and heating repair, the more likely you are to choose us as your heating and cooling company! We are Google Certified for Home Services and all of our employees are background checked and verified.
Common Air Conditioner Problems
Air conditioner repair and AC replacement are two separate issues, however, they can often be linked together. Most common air conditioning problems fall into three broad categories.
Not Cooling Properly
Refrigerant - Your AC unit may have old, ineffective refrigerant or it may have dissipated or leaked out.
Sensor Problems - Your air conditioner contains a number of sensors that relays information. Over time, the sensor can send false readings.
Thermostat Issues - Your thermostat may not be properly reading the accurate air temperature, causing your system to "think" it is running properly when it is not.
Drainage Problems - An air conditioner creates condensate that must be drained away properly. This drain can become clogged with dust, dirt, and rust.
Dirty Filters - This is one of the most common and most preventable problems that affect air conditioning. Dirty filters can lead to increased energy consumption, frozen evaporator coils and can contribute to unhealthy air.
Not Turning On
Electric Control Failure - Compressor and fan controls can wear out due to overworking or connections may become corroded.
Thermostat Failure - There are a variety of reasons your thermostat can fail, preventing a a successful connection to your AC.
Lack of Power - If your AC is not working it may not be getting electricity. This is easy to go unnoticed due to HVAC units having their own circuits. Make sure to check your circuit breaker.
Airflow is Limited
Ductwork Issues - Airflow problems may be caused by clogged, disconnected or separated ductwork.
Dirty Filters - While your AC is not designed to clean air, it uses filters to help remove damaging particles from getting through the system. These filters are designed to be changed frequently.
Common Heating Problems
At DuganAir, we have seen all types of heating system repair needs. Some of the more common problems area homeowners struggle with include:
Problems with the Compressor - Compressor problems require the expertise of an HVAC pro to diagnose and repair.
Temperature fluctuation - If the temperature in your home isn't staying steady, call us for help.
Low Air Pressure - If there isn't enough air coming from your vents, you need HVAC repair right away.
Increased Cost - If it seems that your heating bills are continually increasing, there may be a problem with your system. Heating service can find and repair the problem.
Are you noticing any of these problems? A heating and cooling repair technician from DuganAir can get to the bottom of it and provide effective, affordable solutions to get your heating system up and running again.
Rest assured that when our DuganAir technician arrives at your home, their truck will be stocked with the parts most frequently prone to failure.
Is Repair Enough?
So what should you consider when deciding if a repair is "good enough"? Keep in mind the following factors:
Age of the Unit - As your unit edges toward 20 years old, it is likely reaching the end of its lifespan.
Energy Efficiency - Once units reach 15 years of age, they should be considered a candidate for replacement, based on energy savings alone.
Frequency of Repairs - Frequent repairs can be frustrating, expensive and create an uncomfortable home.