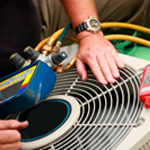 Why Contact DuganAir for Heating Maintenance?
DuganAir Heating & Cooling brings professional HVAC maintenance services to your entire heating and cooling system. We service all of Johnson County. If your furnace or air conditioner won't turn on, you can count on us to go far above and beyond what other HVAC companies provide.
Benefits of Experienced, Professional Heating System Care
DuganAir is Google-Certified for Home Services. All of our employees are fully background-checked and verified to ensure skill, professionalism and a focus on excellent customer service.
Maintenance and regular assessment of your heating and cooling service is essential to proper ongoing functioning. The benefits of HVAC maintenance include:
EXTENDS EQUIPMENT LIFE - Your HVAC system will deliver many more years of high quality use if it is regularly and properly serviced.
PREVENT HIGH REPAIR COSTS - Problems can be detected early and addressed before they escalate and become very costly.
IMPROVES INDOOR AIR QUALITY - As part of our HVAC maintenance services, we will replace air filters and clean your system, which makes your indoor air quality better.
SAVES MONEY ON ENERGY COSTS - Your system will run more efficiently, and this translates into lower energy bills.
HOME STAYS COMFORTABLE - A well-maintained heating and cooling system ensures you will never be without heat or air.
SAFETY - Regular maintenance also ensures your HVAC system will run safely.