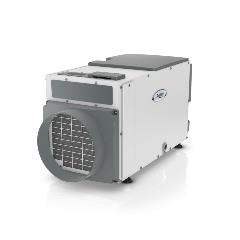 oo much humidity harms your immediate environment. Estimates suggest that the average family can produce over 11 liters of excess moisture every single day. While this affects the house in obvious ways, like mold, damp patches and spoiled surfaces, it also affects people's health in more important ways, aggravating conditions like asthma, arthritis and rheumatism.
Dehumidifiers work in tandem with your heating and cooling system to maintain desired humidity levels throughout your home. Maintaining proper humidity levels in your home is essential to maintaining indoor comfort during the summer months. Lower humidity levels make you feel cooler at warmer temperatures, which means you can set your thermostat higher without sacrificing comfort.
Depending on the size of your home, we offer a variety of dehumidifiers to remove the right amount of moisture from the air.
Dehumidifier product offering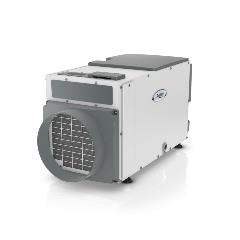 Model 1850 / 1850W Dehumidifier
Model Family: 1850
Capacity: Up to 95 pints or 11.9 gallons per day
Sound Level: Quiet operation
Energy Star Rated: No
Warranty: Comes with a 5-year warranty
Manufacturer's Stated Benefits:
Provides dehumidification for homes up to 5,000 square feet
Is placed in the basement, crawlspace or any room, not installed to HVAC system
Has undergone rigorous reliability and durability testing, assuring the high-quality performance you expect and deserve.
Uses automatic humidity sensing for efficient and effective removal of excess humidity in you home.
Includes a built-in, easy to use control.
Low maintenance. No messy trays to empty; simple once a year filter cleaning or replacement.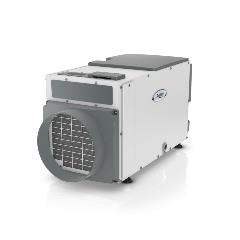 Aprilaire 1820 70 Pint Dehumidifier
Model Family: 1820
Capacity: Up to 9 gallons (70 pints) of water per day
Sound Level: Quiet operation
Energy Star Rated: No
Warranty: 5 Year Warranty
Manufacturer's Stated Benefits:
Compact design (12.5" x 12.5" x 25") allows you to install humidification solutions in cramped crawlspaces.
Built to last with corrosion-resistant aluminum coils, Aprilaire Dehumidifiers are designed and manufactured in the U.S.A.
Helps prevent mold, termites, Structual wood rot, and odors in a sealed crawl space
Reduces and controls basement humidityto help prevent damp carpeting and furnishings, mold, mildew, and odors
No messy water tray to empty and easy to set up
Set it and forget it control automatically starts dehumidification when humidity above target is sensed
Light weight-At 56 pounds, the unit is easy to maneuver and position during installation and setup.